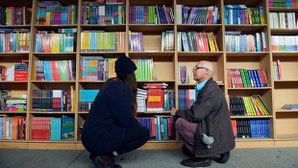 The title of this post sounds like a hyperbole but books actually do change lives in a literal way in the suburbs where I grew up. This is a picture of my friend Richard Tregear, Australia's longest serving youth worker, and one of the kids he looks after, Tahlia, who are both featured here:
http://www.theage.com.au/comment/luck-and-compassion-key-to-migrant-childrens-success-in-the-community-20141001-10oks1.html

Sometimes, you have to labour to write the perfect conclusion to your article. But when I interviewed 16 year old Tahlia, she gave it to me. She said, "I write quotes down in my diary. Do you want to hear the latest one? Okay, here it is: 'It's okay to be a glow stick. Sometimes you've got to break to shine."
This is from a longer article found here.