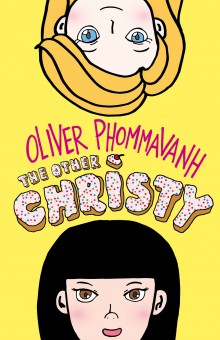 My friend Oliver Phommavanh, who is featured in Growing Up Asian in Australia, has a new book out! I first met Oliver in 2007 when he was a primary school teacher and the author of the short story 'Thai-Riffic', which eventually became a hilarious, heart-warming children's book. Since then, Oliver has gone on to publish six other much-loved books.The Other Christy is his latest. He wrote this lovely piece and is featured here as a guest blogger:

The other, other Christy.
I'm grateful to be on Alice Pung's website. She has meant a lot to me and our paths have crossed throughout my writing journey. I first met her back in 2008, at the Sydney Writers Festival launching the anthology, Growing Up Asian in Australia. It was great to be a part of a collection of works from Asian Australians across all genres and types. I always credit that anthology for launching my career, but it was also an important milestone for my writing journey. I realised that were voices out there, just like mine.
For me, growing up Asian in Australia was a world lost in books. While I could relate to the main character's dilemmas and interests, I was an outsider looking in. I don't remember seeing too many Asian kids in the books. It was until I read John Marsden's Tomorrow When The War Began series, that I met my first Thai character, Lee. That was pretty cool. He was more than just a token character too, he was a fully-fleshed character and I was always on his side throughout the whole saga. So when I started out writing, I tried to make sure that the main characters were Asian-Australian. So far, I've written about Thai, Chinese, Laotion and now Cambodian kids. Somebody asked me if I'll ever write about non-Asian main characters. Maybe. But for now, I want to keep going. 
I've had so many readers tell me how they see themselves in my main characters. Sometimes, just like me when I was growing up, they can relate to their dilemmas and issues, like embarrassing families or making friends. But sometimes I have Asian kids who can relate to going to tutoring in someone's backyard shed, doing three hours of Maths revision every afternoon. Or have parents who always compare their friends' kids to you. I know it's not just an Asian thing, but the Asian kids keep telling me about it.
I recently met another Asian-Australian writer who loved Alice Pung's Unpolished Gem. Alice was the first Asian-Australian author she read. She realised that there was someone like her and now she writes to pass on that feeling. I couldn't have said it any better myself. I've had Asian kids who have shown their parents my books to show that they can become writers. It all makes me glow inside, because I haven't just inspired a kid to be a writer. I've given them a glimpse of their possible future.  
So I'm looking forward to hearing about what people think about The Other Christy. I've been blown away so far with the response in the book's first month of release. Some readers can relate to being stuck in a class with someone else with another name. Others know what it's like to walk around the playground alone. But I think some may share Christy's journey of coming to a new country and living with someone who is set in his old ways. I'm talking about those other, other Christies out there.
Alice Pung once described me as the Asian Paul Jennings. It's a badge that I'm happy to carry along to each school and festival I attend. On one level, I'm out there making kids laugh, getting them excited to read books. But for a few kids, I hope that I can pass on that feeling, an urge to share their own stories and raise their voices.